The Movie: Girls Trip
The Director: Malcolm D. Lee (
Barbershop: The Next Cut
)
The Cast: Regina Hall, Jada Pinkett Smith, Queen Latifah, Tiffany Haddish, Larenz Tate, Mike Colter, Kate Walsh, Kofi Siriboe, Lara Grice, Deborah Ayorinde
The Story: When four lifelong friends travel to New Orleans for the annual Essence Festival, sisterhoods are rekindled, wild sides are rediscovered, and there's enough dancing, drinking, brawling, and romancing to make the Big Easy blush.
The Review:
Ever since
The Hangover
basically created its own comedy genre, there has been a steady stream of similar films attempting to recapture the magic of that original, iconic film. This year, the ladies have stepped up with a few entries of their own including
Rough Night
starring Scarlett Johansson,
Going to Brazil
which has had a successful run at film festivals, and now
Girls Trip
which pulls out all the stops for a weekend of debauchery in the "Big Easy." The quartet of talented ladies in this movie go all out with crazy antics like a zip line bladder explosion that gave a whole new meaning to makin' it rain.
There is an earnest attempt to balance the story out by tugging at heart strings with inspiration and empowerment although I felt like these moments were random and a bit disjointed. There are a lot of threads to keep track of with each of the stars interacting with each other in different ways and it really felt like a juggling act to give each of them their proper shine. Sure,the sisterly love is necessary to bring the plot to its conclusion, but the real highlights are when it was all about pushing the comedic boundaries about as far as we have seen them to this point.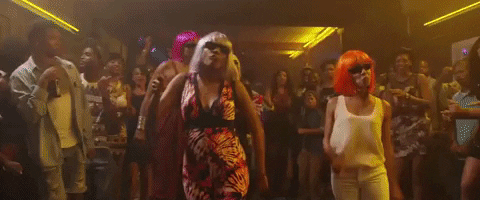 One of my favorite moments was a hyped up dance battle that featured the leading ladies dropping 90's style new jack moves while their opponents were twerking and bouncing to more modern musical stylings. The nostalgia continued throughout the movie and was punctuated by appearances from Larenz Tate who worked with Jada Pinkett Smith on
Menace II Society
along with on stage appearances from New Edition, Maxwell, P Diddy and several other musical acts. For people of a certain age range, this movie will be filled with extra memories and emotions, but it doesn't do anything to hinder the enjoyment to be had by any other demographics.
The Verdict:
Girls Trip
is a lot of fun and what it lacks in originality is made up for with a non stop barrage of R rated antics that will keep you entertained from beginning to end. Not a must for the big screen but definitely worth making a night out of it with a few friends and a few drinks